Northwest Pennsylvania Gas Stations
For years in the early refining era benzene and gasoline as refinery products had practically no market and were dumped by the few scattered pioneer refineries operating along Oil Creek and elsewhere in the oil region. Those products at that time were not worth freighting anywhere, and only a few odd sales occurred at the refinery location, about 10 cents a barrel. The refiner was usually happy to get somebody else to take it away. One use of benzene in the Civil War years of the 1860's was as a substitute for turpentine in paint, but perfume was needed to mask the odor, and it was packaged with a fancy name, but even then didn't enjoy large sales. Gasoline would have worked as well as benzene in that product..
In 1906 an Atlantic dealer sold gasoline in his livery stable in downtown Titusville, Pennsylvania. This was one of the first dispensing "stations" in the northwest sector of the state. Others soon followed. In 1907 the Natural Gasoline Company began selling casing head gasoline to motorists at their terminal on the Allegheny River opposite Tidioute, Warren County. The company had constructed a pipeline from their plant to the terminal, and what they didn't sell at that point was loaded into tank cars and shipped to the Atlantic Eclipse refinery at Franklin for blending purposes. The operators of that enterprise were Thomas Hawkey and Vern and George Klinger (D. Weber, verbal communication).
This historic building on Rts. 62 and 8 in Reno, Venango County, PA, was built in the early 1860's as a bank which subsequently failed. It became the Western Pennsylvania Granitoid Monument Company headquarters and may have held other tenants. Ca. 1920 the right side was turned into a mechanics bay for grease jobs, oil changes, tire repair etc., and a gasoline pump ("visible" type, glass cylinder) was installed out front. Frank Myers was the owner, and the business was called the Reno Garage (Zolli, 1994). It is believed that Atlantic gasoline was sold, the Atlantic-Eclipse refinery being only two or three miles up the road. The building is still there.
The Reno Garage building (former Culver Bank) as it looked in 1994. It was a filling station in the 1920's (see vintage photo) . Today it has new siding.
Other gasoline stations sprung up in the Titusville, Oil City and Reno area in the late teens and 1920. The one at Reno was in a portion of the historic Culver & Penn Bank building which had closed business in 1866, due to an unfortunate run and lawsuits. The building is still there. Another station, a very fancy one for its day (approx. 1919 or 20), was on Route 8 leaving Oil City for Rouseville and was tucked into a lot in "refinery row", but it sold Atlantic products from the Eclipse refinery at Franklin instead of gasoline made next door. It was built in the Oriental pagoda style which was the craze at that time. This station was photographed in its original location by the author, but has since been moved to downtown Oil City where it functions as a tourist bureau.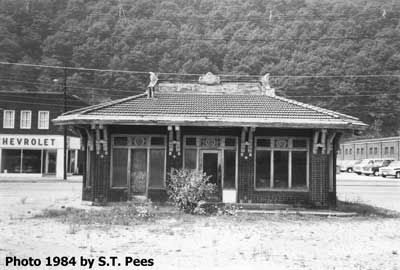 Pagoda style Atlantic-brand gasoline filling station, ca. 1920, in original location, Route 8, Oil City, Pa. Rear view. Pumps have been removed. Station later moved to downtown, Oil City, for tourist agency use.