Bill Shea's Filling Station
Bill Shea in his service station-museum, Springfield, Illinois. Photo by S.T. Pees, 2002.
A gas station with so many signs, pumps, oil artifacts of all kinds, and the notice that "Kilroy was here" grabbed the author's attention while driving a stretch of old Route 66 in Springfield, Illinois. It originally was a Marathon station, but in spite of the hundreds of brand signs, no gas is sold there anymore. Nevertheless, it is a hotspot and many visitors look it over daily, inside too. The owner, Bill Shea, was in the gas station business all his life, first Texaco, then Marathon. The place is a museum now and Bill has retired in order to preside over this splashy collection. Looking for a rare piece of motor oil, gasoline or grease container memorabilia? It probably can be found here, on the floor, walls, shelves, counter, workbench, on the ceiling or hanging somewhere. If not, it'll be outside in the compound. And Bill is a genial host. Nothing's for sale that the writer recalls, except the latest book on Bill Shea's place (Steil and Luning, 2002), but a camera is advised because this is a real photo-op site for colorful pictures of the advertising and marketing of motor oil and gasoline.
Display by Bill Shea in his Rt. 66 service station-museum in Springfield, Illinois.
Bill has even collected a decomposing service station 21 miles up the pike, brought it to his Marathon compound (it was the second move for that old structure), and put it back in shape. That take's dedication. If you're passing through Springfield, drop in at Bill Shea's museum. He'll be sitting on that old bench next to the door if the weather's warm. Tim Steil wrote Bill's filling station history in his book Fantastic Filling Stations which has great photos by Jim Luning (2002).
Bill Shea's "compound", Springfield, Illinois.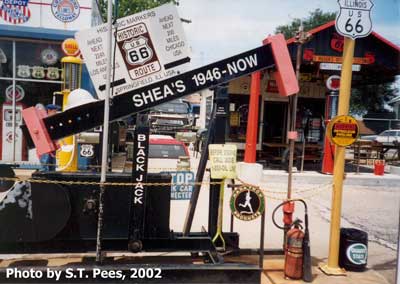 Bill Shea's "compound", Springfield, Illinois.